Monster Jam was Flippin' FUN!
We have officially become Monster Jam Fans!! I honestly don't know what I was expecting but I ended up loving it and nearly loosing my voice over it. No seriously! You can't help but get all into the show and scream for your favorites. Needless to say, we have become fans and I think we will be adding Monster Jam to our annual family adventures.
Pit Party
We started at the Pit Party where we got a chance to meet some of the drivers and take pictures with them and their trucks. They were handing out posters and magazines so naturally we made our way to grab some because we wanted to commemorate our visit by collecting some autographs and really get to know the drivers. This is when we started to chose our favorites of the night which we would later cheer for on the field.
We got to meet Adam Anderson and the famous Grave Digger which was my husband's favorite. My personal favorite was Becky McDonough the driver of El Toro Loco, which by the way killed all the performances of the night. The boys also got to take pictures and autographs from the Bone Crusher (Steve Sims), Monster Mutt Rottweiller (Brad Allen), Overkill Evolution (Mike Vaters) and Monster Energy driver (Tod LeDuc).
If you're wondering if the Pit Party is worth it, it totally is!! There's lots to do for everyone but especially for the kids! Not only will you get to meet the drivers and check out their awesome trucks but you can also enjoy:
1. Hair Dye (everyone)
2. Ride some quads (kids)
3. Ride some electrical bikes (kids)
4. Monster truck rides (everyone)
5. Build your own truck (everyone)
6. Motor cross show (everyone)
There's also a variety of food vendors/ trucks to choose from should you decided to eat inside the Pit Party. We had some steak fries while the boys enjoyed some cheeseburgers. There's a small sitting area but be prepared to eat standing up if everything should get full, or simply wait to eat once the gates open to the event.
Main Event
Theres just something so amazing about a crowd going wild that gives you such an adrenaline rush! That's what it felt like the whole time we were at the show. The show had about three categories for the competition. It started with a race, pairing each truck to see who was the fastest. For that particular category the winner was Over Board beating its opponent the Black Pearl. During these races, some trucks were flipped and others crashed with their opponent. Truck parts were flying everywhere and the crowd just kept going wild!! To make it even more interesting, the crowd had the ability to judge from their phones for the best performances of the night. This made it that much more exciting because we could actual vote for our favorites of the night.
The second category was the Skills Challenge and although we had our personal favorites the winner was Avenger with an awesome performance. These drivers go all out, you see the passion through their performances and stunts. Unfortunately for all Crusaders fans, this was the challenge were the truck blew its engine and had to be eliminated for the rest of the night/ season.
The third category was the freestyle competition. This is where all the trucks gave it their all and showcased their abilities. A lot of trucks lost a lot of their parts during this competitions because the show consisted of flips, wheelies, jumps and so much more. One truck got a flat tire, while another one lost the whole front hood. The winner for this category was my personal favorite and the ever so amazing Becky McDonough, she had one of the cleanest flips and had some of the highest jumps of the night. Grave Digger came so closed, but we voted for EL Toro Loco to take the trophy!
The overall Champion of the night scoring high all across the board was the Avenger, driver: Jim Koehler.
Ready to enjoy the Monster Jam truck show?
Here are a few tips to consider:
1. Bring a jacket ( the show is outdoors so plan accordingly)
2. Arrive early (give yourself enough time to pass through security)
3. Plan strategically when choosing to meet drivers (lines can get long)
4. Bring Cash (ATMS are available but it's best to bring some with you)
5. Noise-Cancelling headphones or ear plugs (Monster Jam is loud, you are encouraged to bring noise cancelling headphones or earplugs. We really didn't need ours but it all depends on the person)
We had the best time and we were so glad we got to experience our first time at Monster Jam as a family. At one point it became really nostalgic for me because my husband remembered being a fan of the "grave digger" when he was younger. Now he got to experience the actual show with his family and share something really special with his boys.
If you're planning on attending, get your tickets today before they sell out! Pit Party tickets are sold separately but you can just add them at the time of your regular purchase.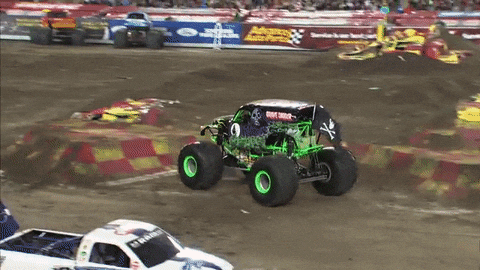 VENUE:
Angel Stadium of Anaheim – 2000 Gene Autry Way, Anaheim, CA 92806
TICKETS:
Ticket prices start at just $25!
Pit Passes available for $15 each
Pit Party Early Access Pass pricing starts at $35 each **Ticket prices subject to change – additional venue/ticketing fees may apply.
Use: MJMOM for $5 off per ticket.


PIT PARTY:
Pit Party Early Access Pass entrance at 1:30 PM (Saturday events only)
**Event ticket and Pit Passes are required for entry; Pit Passes available to purchase for $15 each For more info on Monster Jam Anaheim events, please visit:https://www.ticketmaster.com/promo/1fkkno
This event is perfect for the whole family! Hope you can all get to experience it at least once.
Till next adventure!
Hope everyone has a sweet day!
-Angie